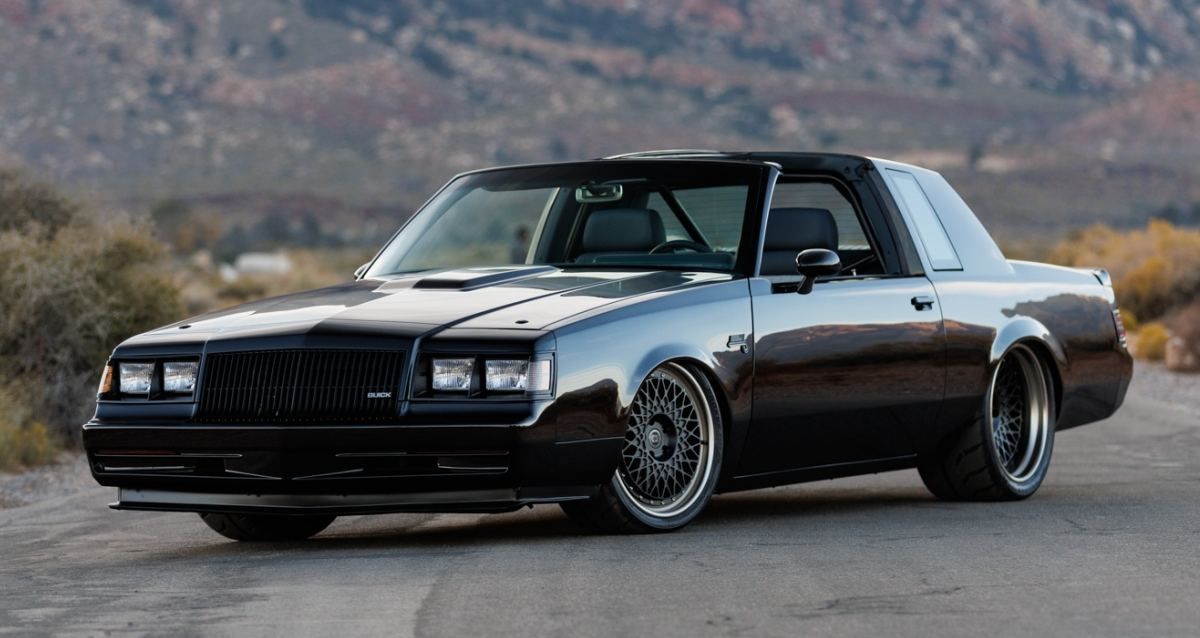 The 2022 SEMA show saw many great builds, but MagnaFlow's booth featured something truly spectacular. Comedian and actor Kevin Hart, is a known Muscle car aficionado, and he understands and appreciates classic American Muscle cars. At this year's SEMA show, Kevin Hart in collaboration with MagnaFlow, unveiled his fifth addition to his one-off Muscle car collection. It's based on a 1987 Buick Grand National Experimental (GNX). It's called "The Dark Knight" and it certainly looks like something the caped crusader would drive.
RELATED: Your Chance To Own The Last Buick Grand National Made In 1987
Kevin Hart Has A Special Place In His Heart For Classic, American Muscle
Being one of the best-paid comedy actors in the world means you can afford many things. And if you are a car guy like Kevin Hart, it means you are bound to have an impressive collection. Amidst the impressive fleet of Mercedes-Benz, Porsche, and Ferrari models, the actor has a variety of American Muscle cars as well.
This includes an original, 1987 Buick GNX, which as you may know, is the Buick Regal's last and most exciting version. Kevin shares that he likes to drive his cars, but the original Buick GNX in his possession? Well here's what he had to say
"That car is artwork. I don't want to drive that car. I want to save that car and put that car up because I feel like, for years and years and years, it's only going to obtain value." – Kevin Hart
"A Wolf In Sheep's Clothing"
a side profile shot of Kevin Hart's 1987 Buick GNX "The Dark Knight"
Kevin Hart wanted to preserve the original 1987 Buick GNX in his possession, but he also wanted one that he could drive and enjoy, while still retaining the original car's design, presence, and driving characteristics. Like his other projects, "The Dark Knight" was built by Salvaggio Design. The overall design of the GNX resto-mod was done by Sean Smith who works closely with Salvagio Design and The Ringbrothers.
His portfolio is vast and impressive, including models like the Evolution Charger, Saleen Black Label, Ringbrothers Produced, and many other one-off builds based on iconic American classics. Like the rest of Hart's custom builds, the GNX is not some over-the-top resto-mod, but a tastefully customized classic model.
As David Salvaggio said, "The inspiration was, basically, to build on the foundation that the original Grand National was. I mean, it was already a great car, we just wanted to emphasize what was there and make it better. Keeping the V-6, keeping it really menacing and kind of a wolf in sheep's clothing is what we really wanted to do."
RELATED: Top 10 Builds Of SEMA 2022
Staying True To The Turbo V-6
a shot of an LF4 V-6 engine in Kevin Hart's 1987 Buick GNX "The Dark Knight"
It's safe to say that the Buick GNX was the only Muscle car that didn't come with a V-8. Out of the box, "Darth Vader's car" as the GNX was nicknamed, came with a 3.8-liter, turbocharged V-6 underrated at 276 horsepower (206 kilowatts) at 4,400 RPM and 360 pound-feet (488 Nm) at 3,000 RPM. Despite the four-speed automatic being the only transmission option, this was enough for a 0 to 60 mph 997 km/h) sprint in just 4.4 seconds, which was quicker than the Chevy Corvette of the same period. Needless to say, GM did not like that and made sure the GNX was discontinued shortly after.
While LS V-8 engine swaps are quite common for the G-Body platform, Kevin Hart decided not to go that root and stay true to the original. As a result, "The Dark Knight" packs an LF4, 3.6-liter, twin-turbocharged, V-6, found in the Cadillac ATS-V. Normally, this would mean 464 horsepower (346 kilowatts) and 445 pound-feet (603 Nm), but Gearhead Fabrications made quite a few changes.
The first order of business was to swap the factory twin-turbo setup for a single turbo working at 20 pounds of boost. Other modifications were done to the cam, exhaust, ignition, intercoolers, and the shift points of the eight-speed automatic. As a result, Kevin Hart's GNX puts out 650 horsepower, which is more than double the original output.
RELATED: 2022 BAD NEWS is Kevin Hart's Twin-Turbo Camaro Refresh
Laser-Cut, Custom Chassis
a rear 3/4 shot of Kevin Hart's 1987 Buick GNX "The Dark Knight"
While it may look like a Buick GNX, but Selvaggio Design opted to use a laser-cut, TIG-welded, custom chassis with a bolt-in subframe for extra rigidity and improved driving characteristics. The front suspension setup consists of Detroit Speed & Engineering X-Gen 595 with performance coil-overs while the rear setup features DSE four-link setup with a Panhard bar. For stopping power, the Dark Knight works with a set of Brembo brakes, featuring six-piston calipers at the front and four-piston at the rear while grip is provided by a set of Toyo Proxes R888R tires.
Sinister Looks And Interior Inspired By The Caped Crusader
a front 3/4 shto of Kevin Hart's 1987 Buick GNX "The Dark Knight"
Every body panel on this GNX has been subtly touched by Salvaggio Design. Using 3D-printing technology and modeling software, everything was revised and resurfaced, with many of the panels now being carbon fiber. The front fascia features a new custom design and a new chin spoiler, subtly altering the GNX's looks while improving the aerodynamics of the boxy coupe.
But really, the only original parts on the exterior are the front and rear lights, and grille. Custom badging was added, and the whole body was finished in BSAF black paint without any additional effects or stripes. Finally, the exterior styling was rounded off by a set of 19-inch, HRE 501 wheels with a nickel-plate finish, the design of which is reminiscent of the original GNX wheels. Last but not least, Kevin Hart's GNX features T-Tops – a feature never officially offered on the original model.
The interior is heavily inspired by the Caped Crusader, featuring dark blue and grey accents as a throwback to Batman's classic costume. I can already imagine Kevin Hart shouting "I'm Batman" while driving in his one-off, custom GNX. In addition to the two-tone blue and grey leather interior, bronze accents were added as a nice throwback to Batman's utility belt. While the interior retains the original, GNX layout, all the plastic bits have been replaced with bronze billet pieces and carbon-fiber inlays. The instrument panel was 3D-printed and features custom gauges.
RELATED: Kevin Hart Has a Hellcat-Swapped and Tuned 1970 Plymouth Barracuda and It's What Dreams are Made of
Successfully Reimagining An American Icon
a front 3/4 shot of a 1987 Buick GNX
With only 547 examples ever built, the 1987 Buick GNX is a sight to behold. Kevin Hart shows for the fifth consecutive time that he understands the philosophy behind American Muscle cars and knows how to build the perfect pro-touring daily driver.
"I don't just sit on the cars. I drive the cars. This will be a driver". – Kevin Hart
The best thing is that despite the enormous amount of custom fabrication and the fact that this is a completely new car under the skin, this build proves that you can reimagine an icon without compromising its identity.