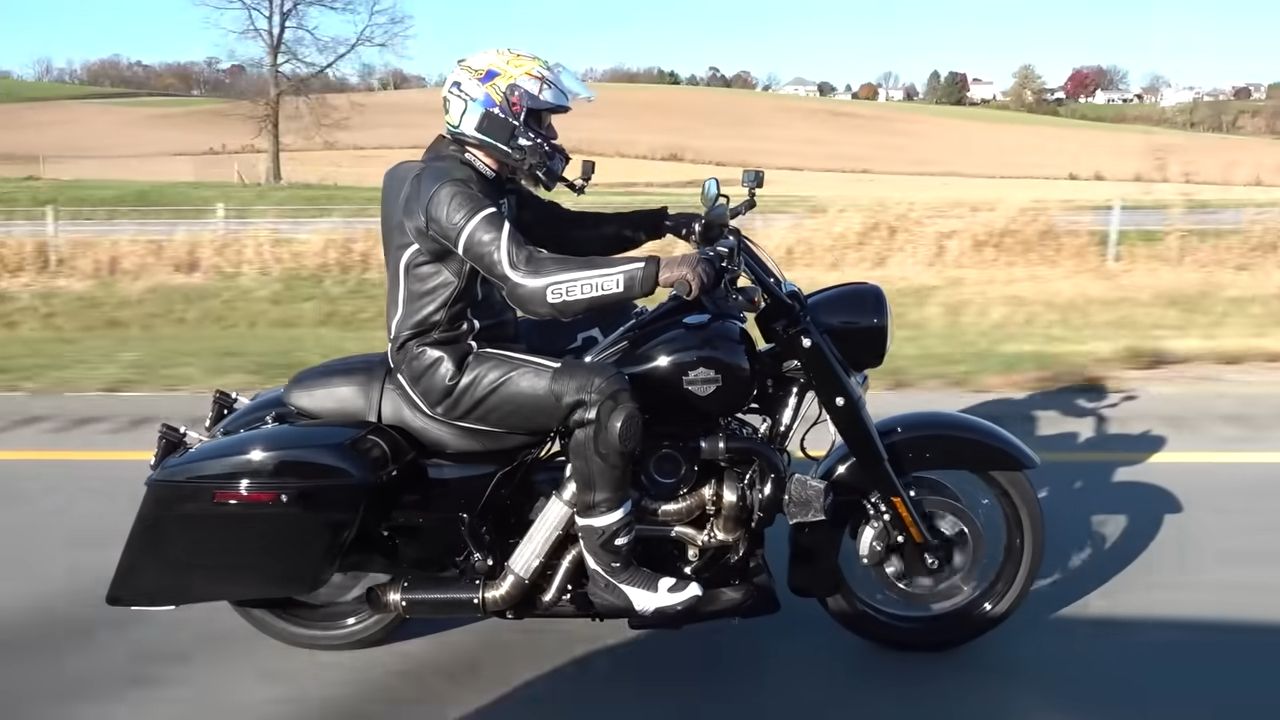 Harley-Davidsons are mostly associated with munching miles on the highway, and almost never with notable speed. But sometimes we come across a tuned and seriously fast Harley-Davidson that showcases the potential these hefty cruisers pack. One such is example is a 286-horsepower supercharged Harley, and further evidence is a turbocharged Harley-Davidson Road King Special built by YouTuber Bikes and Beards. It boasts tons of upgrades allowing it to outrun a Suzuki Hayabusa.
RELATED: Supercharged Harley-Davidson Shows Its Mettle On A Drag Strip
This Harley-Davidson Road King Has A 2,146cc Engine
Studio shot of the Harley-Davidson Road King Special
In its stock form, the Harley-Davidson Road King Special belts out 93 horsepower and 118 pound-feet from its 114ci (1,868cc) engine. Not too impressive, right? Well, the YouTuber thought the same and replaced the stock mill with Harley's aftermarket Screamin' Eagle 131ci (2,146cc) engine. As a result, the output figures on the dyno went up to a respectable 150 horsepower and 150 pound-feet. Most would be satisfied with this result, but Bikes and Beards went one step further and installed a turbocharger kit. To no one's surprise, the kit, along with other necessary upgrades – aftermarket cams, free-flow exhaust – increased the output to a whopping 223 horsepower and 217 pound-feet on the dyno. The only thing left? To take this beast out on the roads.
RELATED: Supercharged Harley-Davidson Gives Supercharged Honda CBR1000RR A Run For Its Money
Though it was just a highway stroll to get a taste of the motorcycle, the YouTuber brought in a Suzuki Hayabusa to paint a picture of the turbo Harley's performance. Now, this wasn't a proper drag race or roll-on race on a closed road, but the results were mighty. The turbo Harley easily breezed past the Hayabusa in a couple of roll-on races, showing just how torquey it is regardless of the rev range. It's worth mentioning the Suzuki will probably zoom past if there was a longer stretch of road and once it reached its full power band. Not to mention, the Hayabusa was bone stock, not even boasting an aftermarket can. Still, there's no denying the tricked Harley Road King is a rowdy beast.
How Much Would Something Like This Turbo Harley-Davidson Cost You?
We know you're curious to know the dent in the pocket, so we did some digging. The Screamin' Eagle 131ci engine retails for $6,970 while the Trask turbo kit averages around $7,300. This is barring taxes, mechanic's bills, and other miscellaneous necessities like remapping. So we believe the total for all this would add up to upwards of $16,000, alongside the Road King Special's MSRP of $23,429. That's a serious amount of money. So, we'd rather suggest you get two motorcycles for the money, one for speed and one for cruisin'. Of course, it won't be as exciting as building yourself a beast, but hey, can't have it all, can you?